The A.A Collective | Mother, Creative + Entrepreneur, Saasha Burns
Saasha Burns is a positive force of nature. Known for her effortless Australian style as curated through an international lens - Creative, Entrepreneur, and Mother to both Atlas and a baby on the way - Saasha takes style cues from her wandering travels. Effortlessly blending athleisure into her curated wardrobe of coastal style essentials, Saasha inspires and energises her online community through a holistic approach to wellness.
On holiday in Malibu, Saasha took to the beach to style her favourite consciously designed AJE ATHLETICA looks in fresh blues to crisp whites, tangerine orange and dahlia pink. Sharing with the A.A Collective, Saasha opened up her travel guide to Malibu, uncovering the best places to eat, shop and exercise.
Lead by curiosity, kindness and an ambition to leave the world a little brighter, AJE ATHLETICA was a natural alignment with Saasha's personal ethos, with the collection encompassing 70% consciously-sourced materials. AJE ATHLETICA recognises that the balance between humanity and planet Earth, is the ultimate in wellness.
A proud new member of the A.A Collective, Saasha believes in the strength between women, the celebration of individuality and incorporating well-being as a key part of her everyday rituals.
Take a glimpse into Saasha's world as she shares her tips on finding balance, her favourite AJE ATHLETICA pieces and Malibu travel recommendations.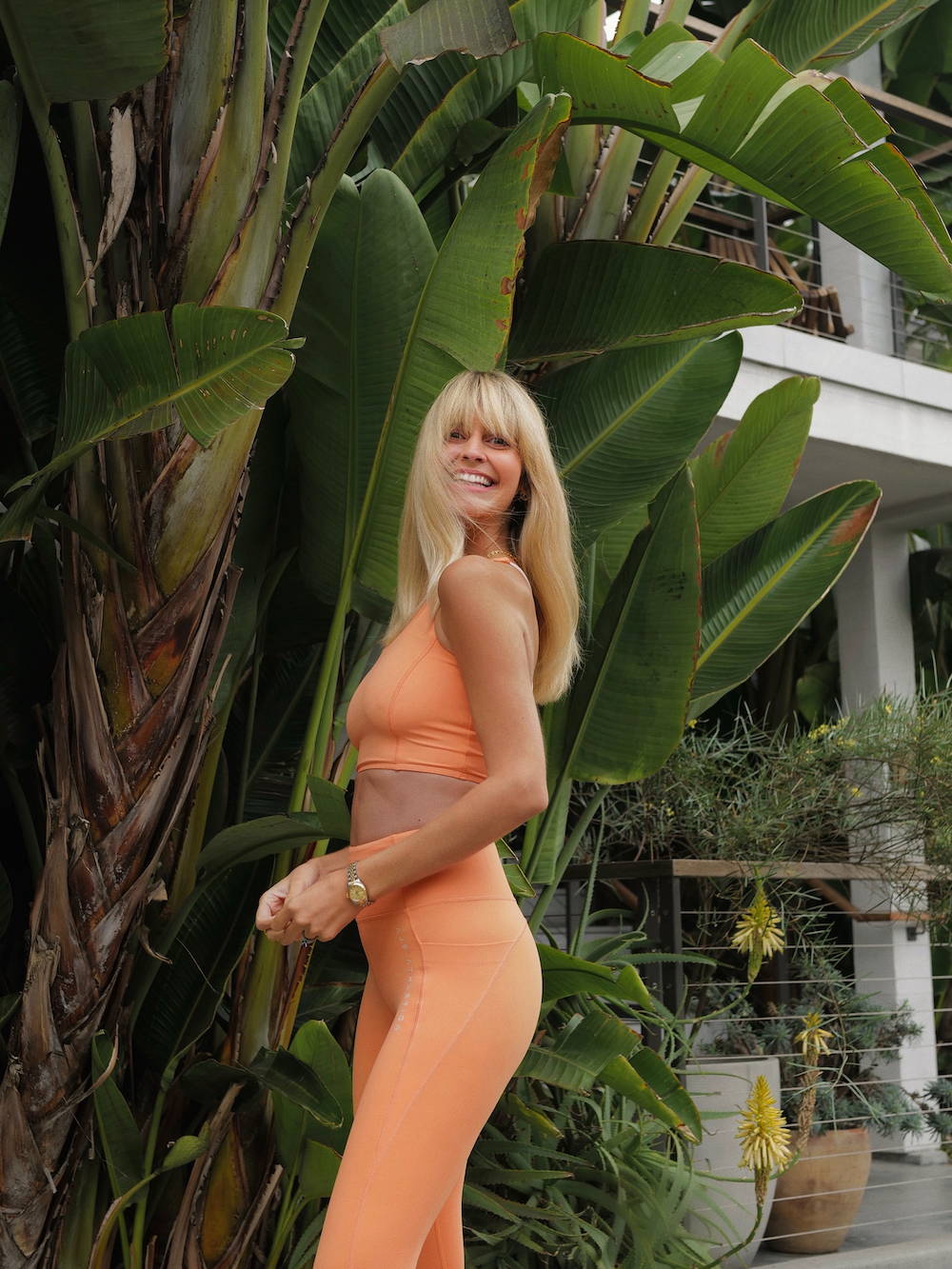 The A.A Collective | Mother, Creative + Entrepreneur, Saasha Burns
AJE ATHLETICA introduces the A.A Collective; a community at the intersection of fashion, wellness and movement. Where active minds and active lifestyles meet, the A.A Ambassadors are an expansive group of creatives championing a holistic approach to wellbeing; harnessing the regenerative power of creativity in their lifestyles. Creating this strong sense of community, each A.A Ambassador engages with wellness and their surroundings through a sense of belonging via their personal forms of expression and creative fields. Cultural tastemakers, the A.A collective support those around them both physically and mindfully through their creative spirit, the core ethos of the A.A Collective.
Read on to know more about the A.A Ambassadors and move with us in a new era of wellbeing.
You shot this A.A Collective feature in Malibu. Share with the AJE ATHLETICA community your favourite places in LA to:
EAT: Gracias Madre, Gjelina, Gjusta, Jon + Vinny's, Pine + Crane, Destroyer, Maru Coffee
SHOP: Rose Bowl Flea Market, Mohawk General Store, Counter Space, The Row, Nick Fouquet.
EXERCISE/HIKE/WORKOUT: Runyon Canyon Park
CULTURAL ACTIVITIES: Neutra VDL House, Eames House, Stahl House, Getty Centre, Griffith Observatory
STAY: The Surfrider Malibu, West Hollywood EDITION, Cara Hotel
DAYTRIP/DRIVE: Palm Springs — stay at Ace Hotel + Swim Club
What are your top wellness tips for keeping life in balance while travelling?
Stay hydrated, prioritise a good nights sleep and get outdoors as much as possible.
What are your favourite pieces from the AJE ATHLETICA Collection?
I'm drawn to colour at the moment — I'll be wearing the AJE ATHLETICA cross back crop top + mid-rise logo bike short in dahlia pink, and the cross back top + high res legging in tangerine for as long as they will fit over the bump + then postpartum. All the pieces are so comfortable and I love the minimalist detailing.
How do you champion a holistic approach to wellness?
Wellness is just as much about mental wellbeing as physical. I love rising with the sun streaming through our window, slowly brightening the room. Over summer in the Sunshine Coast this is before 5am! Atlas really feels our energy as parents, it's so important to keep a calm, positive frame of mind. We love living near the ocean and spending time outdoors, and try to appreciate all the little things in life, slowing down and prioritising family above everything else. Every day is also a new beginning and opportunity.
What are the daily rituals that help you live a balanced life?
Finding gratitude every day for my family, love, health and happiness. Always staying curious, keeping an open-mind, being kind, and seeing the best in people. To never stop learning and growing.
Describe your perfect day - both at home and your ultimate escapist destination.
Spending time out in the sunshine, a little road trip + new adventures — anywhere with my husband and son. So many places I can't wait to return to, but at the moment Mexico City and Tulum are on my mind.
What form of exercise excites you most?
I love walking everywhere as much as possible. Being out in nature always clears my mind and keeps me grounded. There's also nothing better than an ocean swim at Wategos and Little Cove. Running around after a toddler also keeps up my fitness levels at the moment!
What music instantly transports you to summer? Do you have a summer playlist?
It's always changing — I love that certain songs remind me of places around the world or a moment in time. For our California trip, I'm listening to the latest BEAR Sounds of Wellness playlist on repeat — Pacific Coast Hwy.
What's your ultimate summer beauty tip?
Day-to-day I don't wear any makeup. The sun also gives me energy.
What do you look for when you're buying activewear? Do you have different AJE ATHLETICA looks for different activities?
I always look at the materials, where the piece was made, style and comfort. The AJE ATHELTICA bike shorts are definitely a favourite wardrobe essential for every day.
How has being a mother changed your approach to health and wellness?
An even greater appreciation for health and a full nights sleep — especially with another baby on the way. Also, finding space throughout the day to mentally rest, reset my energy and find clarity.
What do you strive to bring to your online community?
A sense of connection, especially between mothers and a like-minded creative community. To inspire a positive outlook on life, strong family values, the courage and curiosity to explore + discover, and original thinking. To encourage others to be more conscious of the natural world and help create real + positive change for future generations.
What does being a part of the AJE ATHLETICA community mean to you?
Inclusivity + strength between women, a celebration of individuality, health and well-being as part of everyday rituals, and the freedom to follow our dreams.