Parisian Tastemaker Géraldine Boublil On Interiors, Travel and the Secret To French Style

The 'Erin Off Duty' founder talks 'Provenance', her love of décor and more.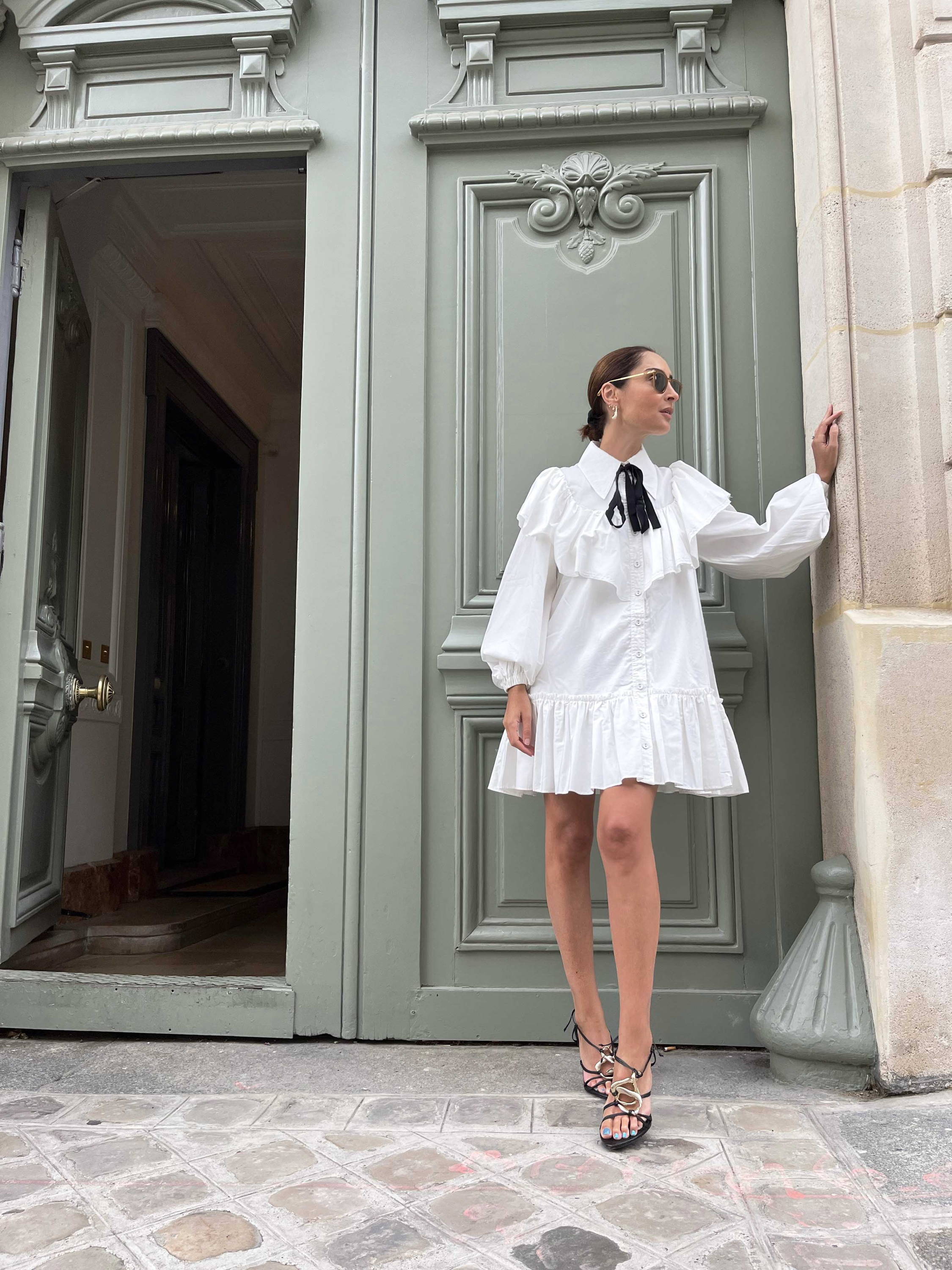 When it comes to style, there are few who truly embody the French adage of je ne sais quoi. Géraldine Boublil is one of those few.
While perhaps the Parisian tastemaker and Aje Insider has an inherent advantage in that department — being a fashion industry fixture, stylist, interior maven and creative entrepreneur, to name but a few — her take on la mode stems from a focus on simplicity. It's a perspective she brings to all of her artistic pursuits, including her interior design bureau Things From., and digital lifestyle destination, Erin Off Duty.
So, to celebrate the most recent arrivals from Spring 22 'Provenance' — a collection that owes much of its inspiration to France — The Aje Report caught up with Géraldine, who styled and lensed her favourite looks against the backdrop of Paris on a warm midsummer's day.
From sharing her love of interiors, to her must-visit gems in the south of France and revealing the true secret to French style, read on for The Aje Report's conversation with the effortlessly cool, Géraldine Boublil.
The Aje Report: Your creative endeavours span far and wide across fashion, luxury and interiors, including: designing, styling, consulting and beyond. How would you describe your career evolution, and what are you focusing on?
Géraldine: I think things have been unfolding naturally, just following my passions in the industries I love like fashion and interior design. Consulting and designing have been also obvious choices to me since I have had work experiences in luxury before, plus starting my former shoe brand. [Nowadays] I'm focusing on my style collaborations, and my interior design project, Things From.
Tell us about your interior design bureau, Things From. What sparked the idea?
When we moved into our new apartment three years ago, I shared the evolution of the work and my entire design peaks and 'ages', and there was a real interest in it from my community.
During COVID, I decided to think about a project linked to that industry, and with my friend Jessica Solnicki, [who is] an interior designer based in Buenos Aires, we launched Things From.
We aim to collaborate with other brands — mainly fashion brands mixing both worlds; fashion and interiors — to create unique pieces. Our upcoming project is a collaboration with Willy Rizzo (launching soon!).
What inspires you in the realm of interiors? What draws you in?

The emotions, the shapes, the simplicity — actually, [it's] quite similar to my taste in fashion.
'Provenance' is inspired by the golden light of Provence and the artists, such as Matisse and Picasso, who sought its splendour — most notably while visiting the storied hotel, La Colombe d'Or — to create their art. What memories come to mind when we evoke…
… Your first childhood memory of fashion?
A black satin vest from Issey Miyake, I saved a lot of money to buy it, I was only 15 — it was such a joy to be able to purchase it.
…. Your first-ever visit to the south of France?
When I was a child with my cousins. I remember sunshine, ice creams, pains bagnats — family memories.
… Art that inspires an urge to create?
Pretty much everything linked to Japan: architecture, living, manners.
Outside of France, the concept of 'French style' is almost mythic in its aura. As a Parisian, what do you think truly defines French style?
Don't try too hard.
While designing 'Provenance', Aje Creative Directors Edwina Forest and Adrian Norris looked to the likes of Brigitte Bardot, Romy Schneider and Simone de Beauvoir — all of whom frequented La Colombe d'Or — to inform the collection. Who are your style icons or fashion inspirations du jour? 
Not really du jour, but I would say Carolyn Bessette-Kennedy, Jean Seberg, '90s Christy Turlington, [and the] Olsen sisters.
What are your fail-safe wardrobe staples? Do they change when you are outside of Paris or travelling?
Perfect straight leg jeans, blazers, flats, silk scarves, white tees, cashmere sweaters and hoodies. [When travelling], not really [laughs]. Love these everywhere.
Which pieces from Aje's Spring 22 'Provenance' collection are you most drawn to? Where do you envision yourself wearing these looks?
Love the feminine side of the pieces, with the cut outs and sleeve details. I envision myself wearing these around summer aperitivo, watching the sunset with a glass of wine.
Your schedule is clear and the weather is perfect. Describe your perfect weekend in Paris: where would you eat/shop/visit/play?
Love the small Japanese restaurants around Rue Saint-Anne, especially Kunitoraya for their Udon. [Also], Tuileries Gardens playground for my kids, and bubble tea time at The Alley, in a nutshell.
As previously mentioned, 'Provenance' is inspired by the golden light of Provence. What are your favourite places to visit and must-do things in the south of France?
Love to visit Château La Coste. The art pieces from Tadao Ando, Calder and Frank Gehry to name a few are incredible and displayed in their massive gardens.
Just stayed at the recently opened Maybourne Riviera above Monaco with incredible views.
The vineyards around Ramatuelle are beautiful. Lunch at Gigi in St Tropez is always fun and delish.
And finally, what is next for you? What excites you about the future?
Stay tuned for September for two exciting project launches.
---
Shop the 'Provenance' Edit by Géraldine Boublil