---
The Ultimate At Home Workout Attire
Made for movement, AJE ATHLETICA is designed as a capsule of interchangeable tonal pieces, allowing you to workout from home in your stylish best.
With much of Australia in lockdown, we are collectively getting creative when it comes to exercising at home. Read the Aje Report's guide to curating your AJE ATHLETICA look for your low to high intensity routines; and discover breathable, functional pieces to wear now and when you return to the studio.
Plus, discover a handful of online studios that you can attend virtually to keep up your healthy lifestyle and personal wellbeing, so we can work out together, apart.
For virtual pilates and yoga classes, wear long-line bike shorts that feature a wide high-rise, ribbed waistband for support as you work up a sweat. Complete your look with a breathable sports bra, designed from 70% recycled nylon, that does not compromise on stretch and durability.
---
Depending on your virtual dance class of choice, look to AJE ATHLETICA sports bras, leggings and shorts to move in comfort. Wear panelled leggings and a racerback sports bra to enhance your performance as you improve your technique.
---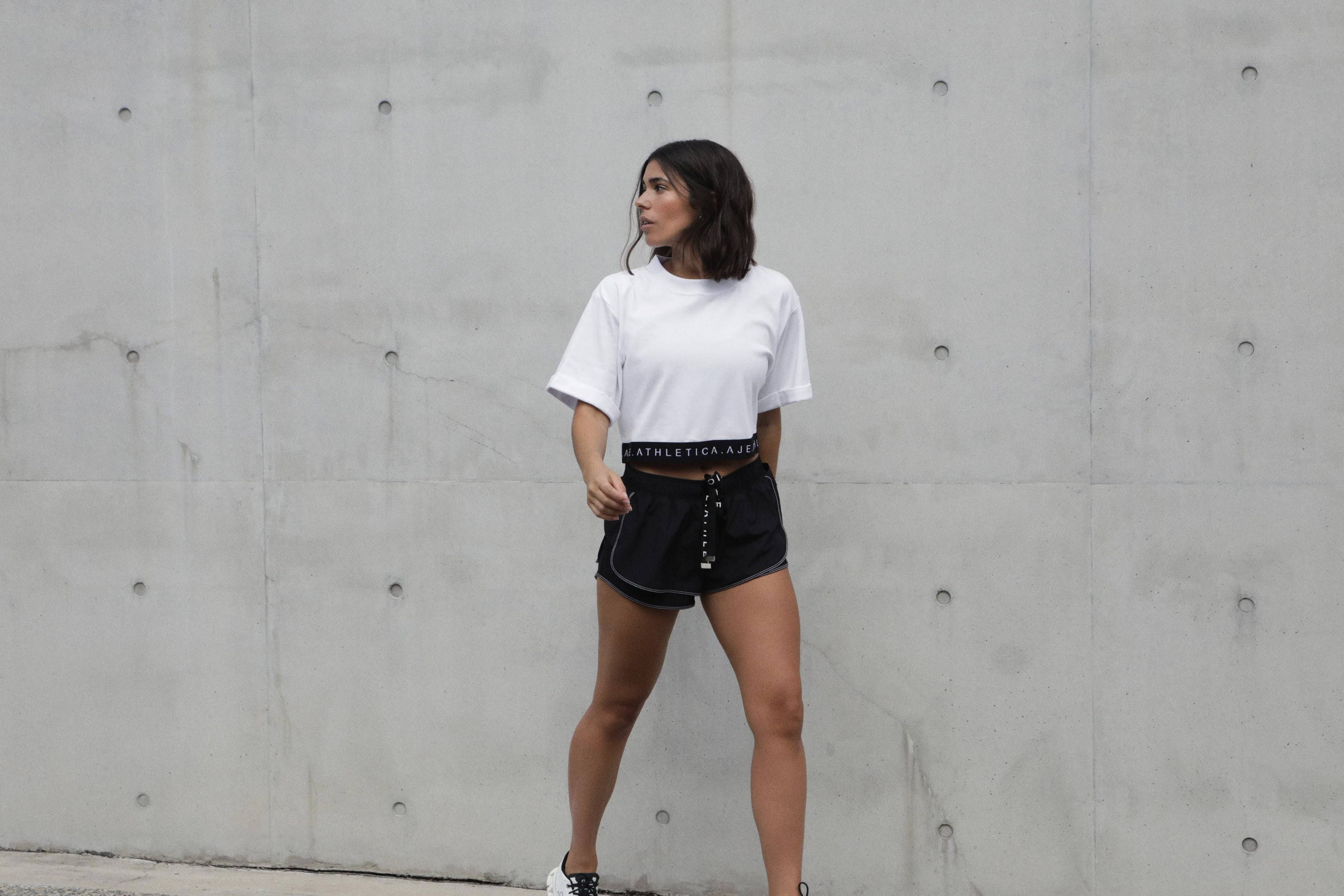 Layer up this season in an AJE ATHLETICA puffer jacket. For added style on those close to home walks, coordinate 100% cotton tees with logo trackpants. Accessorise with an AJE ATHLETICA cap to protect you from the elements, and wear Cloud X trainers to support your healthy lifestyle.
---
Discover virtual studios that provide mindful workouts, whilst focusing on your technique and overall performance.
The Sydney Dance Company offers a wide variety of dance classes from Contemporary to Body Conditioning, taught by professional dance teachers and Sydney Dance Company dancers. For a diverse portfolio of cardio and pilates workouts, visit Barre Body Online for on-demand and live classes to input into your daily ritual. Aje Insider, Bianca Melas' Balanced By Bianca Melas is an online wellness studio with workouts ranging from Barre to Stretch And Mindfulness. And Flow Athletic has on-demand pilates and strength classes which you won't regret taking part in.